Avail high performance Conveyor, Belt Conveyor,Roller Conveyor, Gravity Roller Conveyor & Slat Conveyor, Screw Conveyor, etc. at industrial leading prices...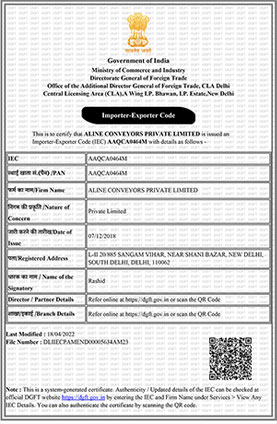 About Us
We, Aline Conveyors Pvt. Ltd., harness on our rich industrial experience and know how, and deal in high quality and reliable Belt Conveyor, Roller Conveyors, Roller Conveyors etc. Apart from being counted among renowned Manufacturers of these products, we have also gained distinction as trusted Suppliers of a vast array of Industrial Conveyors. The foundation stone of our company was laid down by Mr. Shariyat almost seven years back in the year 2008 and we have traversed many milestones of growth & success since then.
Our conveyor range includes Four Wheel Conveyor, Three Wheel Conveyor, I-Beam Conveyor, Belt Conveyor, Gravity Roller Conveyor, Powerised Roller Conveyor and Slat Conveyor; used for transportation, accumulation and sorting all kinds of material. Our product range is a class apart and is manufactured using only premium grade components and other basic materials that helps us keep pace with international norms of quality.

Most Popular Products
Our conveyor range includes Four Wheel Conveyor, Three Wheel Conveyor, I-Beam Conveyor, Belt Conveyor, Gravity Roller Conveyor, Powerised Roller Conveyor and Slat Conveyor
Clients Logo