Quality Confirmation

We are considered to be the most trusted companies because we offer top-notch quality range of products. The quality of our products has never deteriorated in these years, therefore, it does makes us better than the rest. The engineers are qualified, trained, experienced and knowledgeable about the mechanism of all types of fabrication and conveyors. All the material and components, required for manufacturing, are sourced from reliable vendors in the industry. Further, our products are tested on the basis of following parameters:

Performance
Service Life
Speed Limit
Durability
Resistance to corrosion
Our Portfolio

The excellent performance, advanced safety features, easy installation, longer service life, resistance to corrosion and easy maintenance are some attributes of our range is what makes us a more trusted company. Our fabricated Material Handling Equipment are so designed that they can efficiently convey bulk and heavy materials with complete ease. Having high tolerance power and immense load bearing capacity, these products can meet needs of many challenging applications with complete efficiency. We are engaged in the manufacturing and supplying of the following products:

Belt Conveyor
Chain Conveyor System

Four Wheel Conveyor
Gravity Roller Conveyor
I-Beam Conveyor
Power Roller Conveyor
Slat Conveyor
Three Wheel Conveyor
MS Fabrication
SS Fabrication

Manufacturing Facility

To meet the rising demands of various industries, we have constructed a sophisticated manufacturing plant which is outfitted with hi-tech machinery and robust tools for producing streamlined range that matches up with the industrial standards. Drilling machines, milling machines, lathe machines, cutting machines are some of the machinery incorporated by us in the manufacturing unit. The machinery are upgraded and serviced from time to time so that it continues giving high results. All safety measures are taken by the workers and technicians to avoid accidents.

Why Are We Preferred?
Following are some reasons that explain why we are chosen over the rest?

Strict adherence to the quality & safety norms
Fair & ethical business practices
On- time delivery of consignments
Long list of satisfied clients

Some Major Clients

We have served the conveyor needs of many industries, involved in manufacturing different products. Some of the well-known names that that trusted us and today our conveyors are installed in their factory, include:

Khaitan- Cooling and ventilation fans manufacturer with factories located at Faridabad, Hyderabad and Kolkata
Godrej- A century old company that manufactures a diversified product range, from furniture, appliances to electrical & electronic products
Studd- Manufacturer of helmets & two wheeler accessories
Other than above clients, we are associated with below mentioned firms:
Al-Kabeer
Allana
Avtar Steel
C.L Gupta Exports Ltd.
Dairy India
Designo
Escorts
Havells
Interio
Kwality Dairy (India) Limited
Lazer
Liberty

Mark Exhaust
Mauria Udyog Limited
Munjal Showa
New Holland
Omegas
Rockman Industries Ltd.
Sona
SPM
Synergy Steel
V-Guard
Woodland
Download Catalogue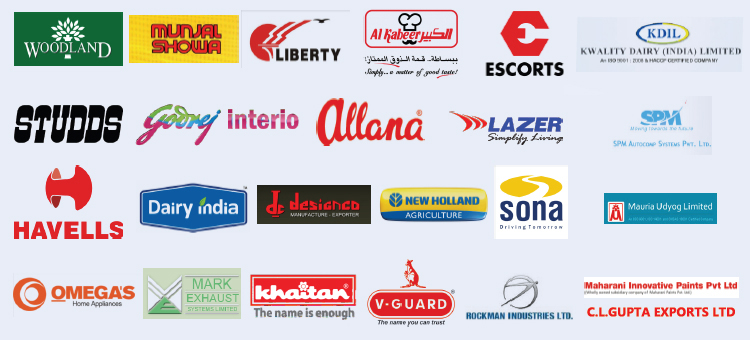 Our Dealing Area: Ghaziabad, Gurgaon, Meerut, Alwar, Faridabad, Noida, Jaipur, Panipat, Rewari, Bhiwari, Karnal, Moradabad, Bareilly, Rohtak, NCR.